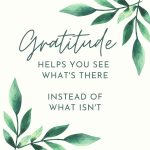 In difficult times, we can easily get overwhelmed by what's going wrong, or everything that is missing in our lives. We can lose sight of all of the good that surrounds us. But that doesn't mean the good isn't there. The good is always there, we just need to start to see it again. The way we do that is through gratitude.
What (3) things are you grateful for right in this moment?
This post was inspired by my friend
Kimberly Geschke
who mentioned she started reading "The Magic," by Rhonda Byrne, becoming more grateful and very good things started happening for her.
https://www.amazon.com/Magic-Secret-Rhonda-Byrne/dp/1451673442